---

●Easier and more comfortable to use: with smaller earplug which is worn hanging around your ear, it will comfortably fit even to a small ear.
●The set comes with a sound collector for good pickup of sound.
●The sound collector is easy to use with the power and volume switches in one. Sound volume is adjustable for the high-pitched and low-pitched sound separately. (Please note that if the volume of the low pitch is raised excessively, it will increase the vibration of the earplugs)
●Clip and neck strap of the sound collector give added comfort for outdoor use.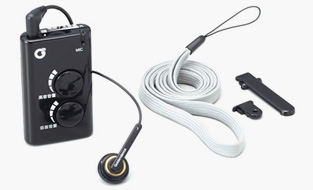 ---

・Model number: GD-B-SS

Bone Conduction Earphone
・Type : Bone conduction earphone
・Model : Dynamic
・Driver unit : 10mm
・Sensitivity : 83±3dB
・Frequency : 50Hz〜10,000Hz
・Maximum input : 125mW
・Impedance : 8Ω
・Weight : 8g (with cord)
・Plug : φ3.5mm stereo miniplug
・Cord length : 0.6m
・Color : Black

Sound Collector
・Sound pressure : 96dB±3dB
・Battery Life : Approx. 100hoursn (AAA1.5V×1)
・Dimension : W40×D15×H68mm
・Weight : 30g (not including batteries)
・Material : ABS resins