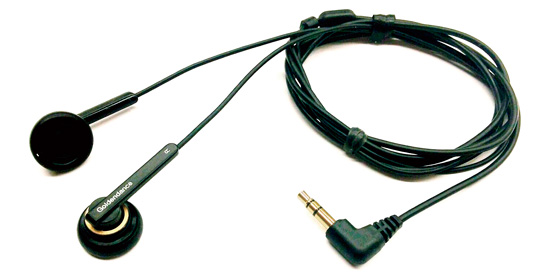 ---

●YBone conduction to hear sounds by means of vibrator vibrations suppresses sound leakage compared to conventional earphones. The product is optimal for use in public places like trains.
●Hearing sounds by means of vibrations does not excessively tire the user and reduces the burden on the eardrums.
●The earphones are compact and hooked at the ear. They do not need to be inserted deeply, so they can be recommended even to those who do not like the feeling of pressure or who have small ears.
●The earphone unit does not have air holes because it employs bone conduction. This drip-proof unit is strong against sweat and water drops and it can be cleaned by wiping with a wet cloth even when it is dirty.


---

・Model number : GD-SB

Bone Conduction Earphone
・Type:Bone conduction earphone
・Model : Dynamic
・Driver unit: 10mm
・Sensitivity : 83 ± 3dB
・Frequency : 50Hz〜10,000 Hz
・Maximum input: 125 mW
・Impedance : 8Ω
・weight : 15 g (with cord)
・Plug : φ3.5mm stereo miniplug
・Cord length : 1.2 m
・Color : Black