Double Bone is ultimate headset for professionals who work in noisy environment.
Hear clear sound and transmitting dear sound too, even in noisy surroundings.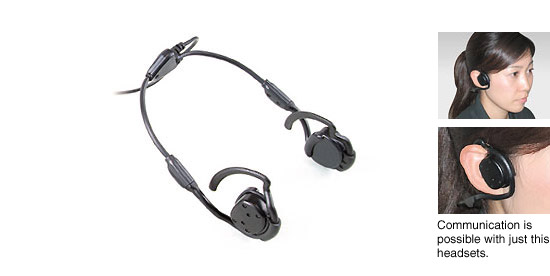 ---

●Our originally developed headsets which uses bone conduction system for both receiving and transmitting(patented)!
●Double Bone does not cover the ears ond you can use earplugs to protect your ears from the loud noise.
●Unbelievable clear sound allowing smooth telecommunications even noisy environments.

---

■Suitable for
Noisy environment such as :
・Traffic・Restaurants・Event/Party Venues・Airport/Airline operations ・Construction site・Harbor facilities・Harbor loading and unloading ・Moving companies・Hotels

*This headset is for one-way communication equipment such as radio transceiver.
It is not suitable for mobile phone or regular phone (two way communication equipment) because it returns an echo.

Professionals such as :
・Security guard・Military・Law Enforcer・Firefighter ・Construction site worker・Airline ground operator



●Bone Conduction Speaker
Model number : GD-WH
Type : Magnetic
Impedance : 8Ω ± 30% at1KHZ
Frequency : 300HZ〜3.5KHZ
Output Level : 102dB ± 5dB at 1KHZ(0dB=1μN/mW)
Normal Input : 0.1W
MAX Output : 0.3W