Fits naturally and very light. Bone conduction headphone allows listening without covering the ears to the music and the environmental sound at the same time. Less burden to the eardrums by transmitting vibration to bone and can be used for long hours with comfort.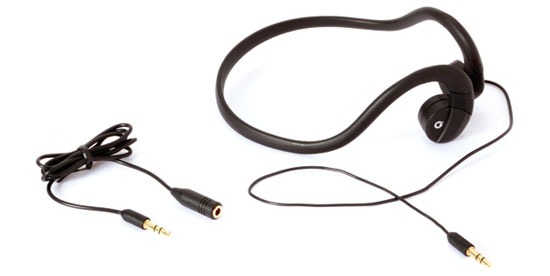 ---

●Listen by bone conduction, thus without blocking your ears. Best used during jogging and in the public spaces.
●Listen by vibration of sound, thus can be used for long hours with comfort and give less burden to your eardrums.
●Fits naturally and less pressure to your head.
●Very light, only 31g, thus can use it for long hours with comfort.
●Water-resistant, thus resist against sweat and water-drop and can be wiped with wet cloth to keep it clean.
●The cord length is 40cm, thus user-friendly for jogging.
●80cm extension cord included for adjustment of the cord length case by case.
●Designed for comfort. Unique curved line will fit to your head.
●Can wear headphone over glasses with comfort.

*Can connect headphone directly to the devices, such as iPod and mp3 player, with high power output. Some devices such as the portable player (CD/MD player, Walkman), radio, T.V., PC may not have enough power output , in such a case it is recommended use an amplifier.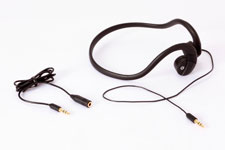 ---

・Model number : GD-HS-601
・Type : Dynamic
・Driver unit : 17mm
・Sensitivity : 88dB
・Frequency Response : 20Hz-10,000Hz
・Max input power : 100mW
・Impedance : 8Ω
・Weight : 31g(with cord)
・Plug : Φ3.5mm Stereo Mini-plug
・Cord length : 1.2m(0.4m+extension 0.8m)
・Color : black

*Sound of bone conduction is generated during the normal conversation. Please feel at ease as there is no health problem.