"Headphones which don't cover your ears." "New style stereo headphones to enjoy music"
AUDIO BONE AQUA, the latest bone conduction headphones, designed and developed specifically for listening to music. Stylish and ergonomically-designed.

2009 CES Innovations Design and Engineering Award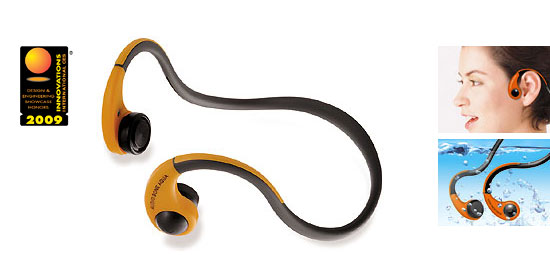 ---

●Waterproof
AUDIOBONE AQUA is perfect for sports and outdoor activities because it is washable! If it gets dirty, you can just wash it with water!
●Excellent sound quality
Ultimately the best quality sound among all bone conduction headphones. Experience the new way to enjoy your music with bone conduction headphones.
●Lightweight - only35g
AUDIO BONE AQUA is so light that you feel comfortable wearing it even for long hours.
●8 colors available
Orange, Black, Blue, Pink, White, Brown, Purple, Green
●Ergonomically-designed
Beautiful streamline, based on human-body engineering, comfortable and untiring to the ears.
●Suitable for outdoor activities, sports
Allowing you to hear surrounding sounds during sports or other outdoor activities. Such as biking and jogging while enjoying your favorite music.



・Model number : MGD-701/702/703/704/801/802/803/804
・Type : Stereo bone conduction headphone (waterproof)
・Colors : Black, Orange, Blue, Pink, Brown, Purple, Green, White
・Noemal Input : 30mW
・Maximum Input : 100mW
・Impedance : 8Ω±15%
・Sound pressure : 88dB/mW (dB1.0dyne)
・Standard Frequency : 50〜12,000Hz
・Cord Length : 120cm
・Plug : Stereo Φ3.5
・Weight : 35g