New model for Earsonic earphone. More user-friendly.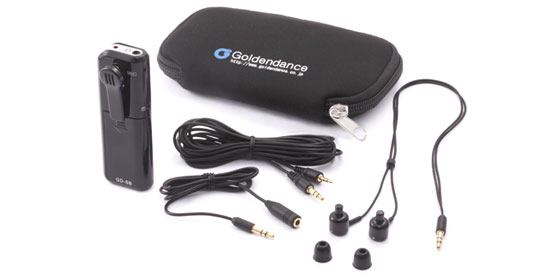 what's new for new model.
œLess vibration contrary to bone conduction earphone.
œthe size of earphone is now 12mm compared to old model of 14mm . Fits well to people with small ear.
œSpecial urethane ear cushion offers comfortable wearing.
œCord do not twine and can be adjusted to the preferred length with the 0.7m extension cord.
œComes with a carrying pouch.



Model number : GD-S-SB2
œBone Conduction Earphone(water-resistant) Specification
Type : Dynamic
Driver unit : 12mm
Sensitivity : 62}3dB
Frequency : 20Hz`10,000Hz
Max. input : 100mW
Impedance : 8ƒΆ
Weight : 15g(with cord)v Plug : ƒΣ3.5 stereo
Cord length : 1.05m(0.35m + extension 0.7m)/Y cord
Color : Black

œEarsonic Microphone Specification
Frequency : 80Hz`10,000Hz
Sound pressure : 125}10dB
Accousitc gain : 44dB
Current draw : Lowever than 13mA
Battery Life : Approx. 100hours(AAA1.5V~2)
Jack : ƒΣ3.5mm stereo
Size : W32~H25~L95mm
Weight : 50g(including batteries)
Material : ABS resins
*Sound of Bone conduction is the sound generated in the normal conversation. Please feel ease as there is no health problem.