Ear Sonic is remarkable bone conduction hearing instrument.
Less stress, more comfort for your communication.
Moreover, you can plug it directly to the TV, Radio, CD player, other music devices.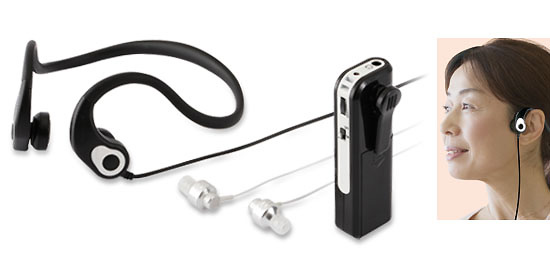 ---

■Aid to listen by using bone conduction headphone or earphone and small microphone. Two choices for headphone set or earphone set.
■Easy to put on, light weight
■Simple usage(on/off swich and volume adjuster), compact size
■No more worries for watching TV in a loud volume- attached Audio Cable enable to connect to TV,Radio,CD player, Mp3 player,other music device
■Easy to keep clean-Water resist (earphone or headphone, not for microphone)
■Ear Sonic uses the different approach from the conventional hearing aid; the ambient sound is retrieved by the small microphone and then the sound is heard by the bone conduction headphone/earphone.
Bone conduction offers listening not by the eardrums, but by bone which is efficient for hearing instrument. Since the sound vibration bypasses your eardrums, there is less burden to your eardrums.

*Bone conduction is able to aid a conduction hearing loss because a bone conduction device performs the role of the eardrums. As for mixed hearing loss, it is best to suggest a trial in advance to find out whether bone conduction could be an aid to mixed hearing loss because it differs among individual. It is less effective for perceptive hearing loss.


---

Bone Conduction Earphone
・type : dynamic
・driver : 14mm
・sensitivitiy : 62dB±3dB
・Frequency Range : 50〜17,000Hz
・Max.Imput : 30mW
・inpedance : 8Ω
・weight : 16g (incl.code)
・plug : Φ3.5 stereo mini plug
・cord length : 1.2m/U type

Bone Conduction Headphone
・type : dynamic
・driver : 17mm
・sensitivity : 88dB
・Frequency Range : 50〜12,000Hz
・Max. Imput : 100mW
・inpedance : 8Ω
・weight : 34g (incl.code)
・plug : Φ3.5 stereo mini plug
・cord length : 1.2m (0.5m+0.7m)

Microphone/Amplifier
・Frequency Range : 80〜10,000Hz
・sound pressure : 125±10dB
・maximam : 44dB
・electricity consumption : 13mA以下
・battery life : approx.100 hour (two AAA batteries)
・plug : Φ3.5 stereo mini plug
・size : W32×H25×L95mm (Body)
・weight : 50g (incl.battery)
・material : ABS resin